DFI's Pre Budget Submission 2024 to the DSP
Issued on July 18 2023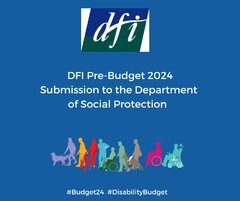 Download
DFI's s Pre-Budget Submission 2024 to the Department of Social Protection
Budget 2024: Disability poverty increasing while the economy grows – Action needed
To be disabled in Ireland is to experience a much higher risk of poverty, and deprivation; where affording the ordinary things in life is a major challenge – securing a home, taking a holiday, buying new clothes or keeping up with your utility bills. The inflation and cost of living crisis has exacerbated the ongoing, systemic economic vulnerability faced by the disabled people living in all communities in Ireland who rely on our social protection system to survive.
Although Ireland is a wealthy country, we rank 24th of the EU 27 for disability poverty. One in two people unable to work due to long-standing health problem (disability) live in deprivation, while one in five live in consistent poverty.
Despite Ireland's healthy economic growth, current social protection supports maintain thousands of disabled people in poverty. Given that the State has significant resources available to it, and there is public and political support for action, the situation of disabled people must be prioritised.
Ireland signed the UN CRPD five years ago, committing to ensuring people with disabilities right to an adequate standard of living and social protection. Budget 2024 must:
Introduce a recurring Cost of Disability payment of at a minimum, €40 a week, building on the Cost of Disability one-off grant in Budget 2023
In addition, increase Disability Allowance and other core disability payments by at least €27.50 a week, as per the recommendations of the Minimum Essential Standard of Living (MESL). Due to the cost-of-living crisis, anything less than this will be a real term cut. This is the absolute minimum required to prevent individuals and families being pulled deeper into poverty.
Develop a specific poverty reduction strategy for disabled people.
Work with other government Departments to develop and resource a clear Action Plan to fully address the Cost of Disability over the next 3 years.
Continue to prioritise and use responsive targeted measures to support disabled people with the cost-of-living crisis, including addressing Energy Poverty, particularly in Winter 2023.