DFI Submission on National Access Plan, 2022-26
Issued on June 25 2021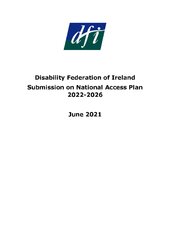 DFI made a submission to the Department of Further and Higher Education, Research, Innovation and Science and the Higher Education Authority to inform their development of the next National Access Plan, 2022-26. The National Access Plan, NAP, aims to ensure equal access to higher education for students from underrepresented groups, including people with disabilities.
DFI's submission highlighted educational inequalities experienced by people with disabilities. 37% of people with disabilities aged 15 to 50 have completed third level education compared to 53.4% of the general population.[1]
DFI's submission included the following recommendations:
The participation of students with disabilities (as a % of all new entrants to higher education) has increased from a baseline of 6% to 10%, exceeding the target of 8%. The new NAP should therefore include a more ambitious target.
The NAP should include a focus on students with disabilities who are less likely to attend higher education, including those with sensory or intellectual disabilities.
The Higher Education Access Route, HEAR, programme should be formalised across all institutions.
The next NAP should focus more on the experiences and success of students within higher education.
The NAP needs to build in a strong cross-departmental element.
The NAP should promote the principles of universal design for learning.
Given the high poverty rates of people with disabilities, financial barriers to accessing education for people with disabilities should be addressed. DFI and AHEAD previously made recommendations to inform the review of the student grant scheme. Programmes like PATH 2 that specifically target students with disabilities who are also socio-economically disadvantaged are of great importance.
Disability intersects with other forms of disadvantage. Actions that address the needs of each of the NAP's target groups in isolation will be less effective than actions that address the needs of multiple target groups in a holistic way. Programmes like PATH that have recognised this have seen great success and initiatives like this should continue to be supported and promoted.
The NAP should seek to address digital poverty, and improve access to assistive technology, digital equipment and associated training.
[1] Census 2016.