AHEAD/DFI Submission on Student Grants
Issued on April 21 2021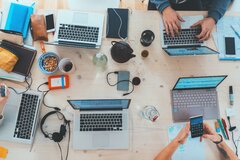 Last week, AHEAD and DFI made a submission to inform the Department of Further and Higher Education, Research, Innovation and Science's review of the student grant scheme, SUSI.
The submission was based on consultation with the AHEAD/USI Students with Disabilities Advisory Group and DFI's member organisations.
Education has the potential to address the unacceptably high levels of poverty and unemployment experienced by people with disabilities. However, the financial barriers to accessing education for people with disabilities must be addressed first, through the student grant scheme.
We recommended extending eligibility for the SUSI grant to the following groups:
All part-time learners
All further education and training learners
All postgraduate students
Students with intellectual disabilities on higher education courses
Students attending online further and higher education courses
We also made the following recommendations:
Provide additional SUSI grant funding to students with disabilities to cover disability-related living costs.
Ensure SUSI is not considered eligible income in the calculating of medical card eligibility.
Allow students to retain full access to the SUSI grant if their college permits them to study over a longer period of time, as a reasonable accommodation.
Develop a hassle-free process for students to extend their SUSI grant when a repeat is granted on medical grounds.