Wicklow DISC
DFI's partnership with Wicklow County Council responding to the needs of people with disabilities in County Wicklow
Wicklow's first ever Disability and Inclusion Strategy was launched on Friday 20 October 2023. Wicklow County Council's Disability and Inclusion Steering Committee, DISC for short, have been working towards this launch since their committee was established in 2020.
Welcoming the strategy, Councillor Aoife Flynn Kennedy, Cathaoirleach of Wicklow Co Co said, "We welcome the publication of our first Disability and Inclusion Strategy. Wicklow County Council is a leader in making the services we provide accessible to all. We are the only local authroity in the country who, through our partnership with the Disability Federation of Ireland (DFI), has introduced the role of Disability and Inclusion officer. This role complements the work of our access officer."
Councillor Miriam Murphy said, "The reason I became a councillor, is because I felt that people were making decisions about where I went, what I wanted to do, where to live, where to go to the pub, and everything else, and these people didn't know me. I felt I had to be at the table to help with these decisions."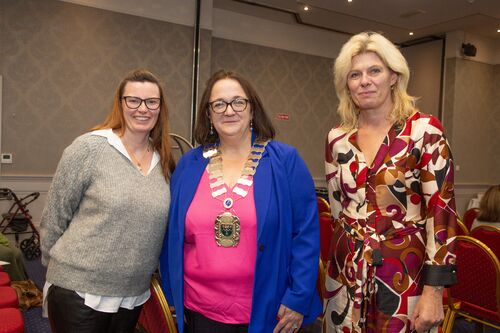 Cathaoirleach Aoife Flynn Kennedy went on to say that Councillor Murphy's experience is the essence of why DISC was established. She said, "too often, disabled people can be excluded from doing the everyday things, we take for granted. This strategy offers a clear plan of action for ensuring everyone is included and has equal access to our services."
As well as launching the strategy, DISC hope that the event will promote their work across the county. Emer O'Gorman, Chief Executive of Wicklow County Council said, "The strategy reflects the council's strong commitment to working with disabled people and their families. The number of people with a disability in County Wicklow has increased from 13.5 per cent of the population in 2016 to 23 per cent in the most recent 2022 census. The statistics show that disability impacts every community across our county and we need our services and public spaces to reflect that".
The event, which took place in the Arlow Bay Hotel was well attended and included many of those involved in bringing the strategy to life. The event also included some short presentations, as well as some music to celebrate everything the group has achieved so far. Therese Cahill, a self-professed 'limp-up' comedian penned a parody song for the occasion and family band 'Classic Harmony' who are classically trained and visually impaired musicians also performed.
The strategy
The strategy, which outlines how Wicklow County Council and other community stakeholders will work to make Wicklow a more accessible and inclusive county, over the next five years, is available here. A toolkit is also available.
The Disability and Inclusion Steering Committee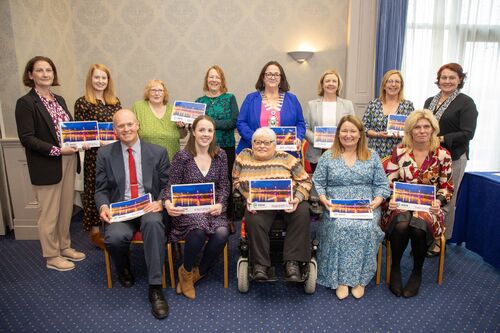 The aims of the of DISC, which was established in 2020, are to:
Promote disability inclusion and implementation of the United Nations Convention on the Rights of Persons with Disabilities (UN CRPD) in Wicklow County Council
Ensure that disabled people and their supporters are facilitated to participate and have theit voice heard
Influence Wicklow County Council and local communities to become more aware of, and responsive to the nedds of people with disabilities,.
The Director of Services of the Community, Cultural and Social Development Department chairs the Steering Committee. Crucially, people with a variety of disabilities, from across the county, family carers and the staff of local disability services are represented on the committee.
DISC also includes elected representatives from each Municipal District and representatives from:
The Wicklow Public Participation Network
County Wicklow Partnership and Bray Area Partnership
Wicklow Tourism
Age Friendly Wicklow
Wicklow Children and Young People's Services Committee
The Social Inclusion Disability Officer from the Local Sports Partnership
DISC and the Disability Federation of Ireland
DFI's partnership with Wicklow County Council responding to the needs of people with disabilities in County Wicklow
A great deal of work and consultation took place in the build-up to the strategy, led by the Disability Inclusion Steering Committee (DISC), of which DFI's Laura O'Callaghan is a member.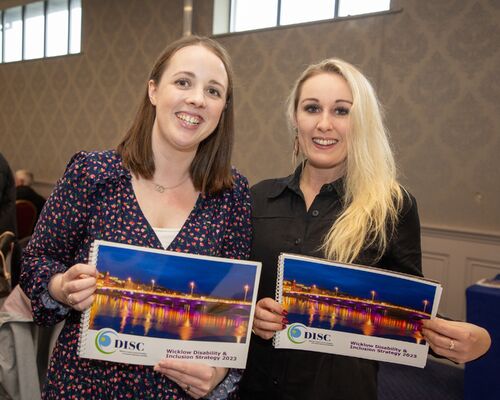 Director of Services Michael Nicholson was keen to praise the involvement of Laura in the DISC. Wicklow County Council are the first and only local authority to have a relationship with DFI, who provide services to the council.
Mr Nicholson said, "Having Laura from the DFI is an absolute godsend for us because we have the full knowledge and the full importance of DFI in all our matters, and I think the members will agree, you can see the results across the county of that expertise.
"We were the first local authority to adopt the sunflower lanyard. We have a hidden disability progress-based project under way. We are the first local authority to have changing places within a public building. That has now spread to Avondale, with more to come."
Commenting ahead of the public launch of the strategy, Laura O'Callaghan said, "We have an idea now of where people's priorities lie in terms of disability, and we aim to launch what we have come up with so far next month. It is this idea of equality versus equity, and it's not the same for everybody across the board. It's giving people who needed a leg up where they need it and showing that this county can understand the value of equity over quality, is accessible for all and celebrates the fact that we are all different, but equal."
If you would like to find out more about our work with Wicklow County Council please email Laura who is pictured (left) at the launch of the strategy.
How the Partnership between Wicklow County Council and DFI worked
Wicklow County Council linked in with the Disability Federation Ireland to provide a Community Development Worker (Laura O'Callaghan) for three days per week. Laura's role is to support the council to respond to the needs of people with disabilities in County Wicklow and help them to proactively engage with implementation of the United Nations Convention on the Rights of Persons with Disabilities (UN CRPD) at local level.
While physical access to the built environment was a key concern, to be addressed in partnership with Wicklow's Access Officer Richella Wood, there was an acknowledgement that people with disabilities face a range of barriers to full and equal participation. As such Laura's role involves working with all departments within the council and with other existing local groups and services, including the County Partnerships, Education and Training Boards (ETB's), Wicklow Local Sports Partnership, the Public Participation Network and disability organisations.
Resources
Video: Watch Michael Nicholson, Director of Services with Wicklow County Council, speaking about his role in the Council and about the partnerships and the importance of the lived experience in bringing all of this together.click here

Video: Watch Councillor Aoife Flynn Kennedy, Cathaoirleach of Wicklow County Council, speaking about the important work and collaborations that have brought the Disability and Inclusion Strategy to life in Wicklow. click here
Document: The Strategy [link will be live shortly]
Document: Toolkit for Community Groups from the Disability and Inclusion Steering Committee
Find out more
If you would like a copy of the strategy or would like to find out more about DISC, please contact disability@wicklowcoco.ie.