HSE recruiting volunteers with a lived experience of disability for new Disability Advisory Group
March 23 2021, 12:21pm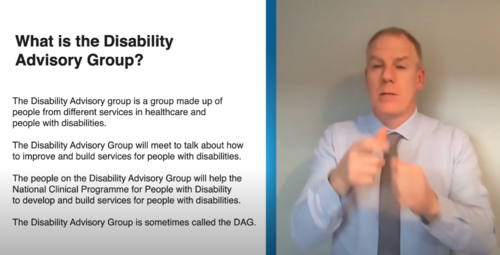 The HSE are recruiting three people with lived experience of disability to express their interest in volunteering to become members of the Disability Advisory Group (DAG) to the new National Clinical Programme for People with Disability.
Applications close at 12pm on the 2nd April.
This is open for people with intellectual, physical, sensory, neurological or any other disability to apply. One of the positions is also open for family carers
The Disability Advisory Group will meet to talk about how to improve and build services for people with disabilities. Volunteering will involve attending four to six meetings a year. Most will be online but some may be in person. Training will be provided and additional supports can also be provided. People are being asked to join the Advisory Group for two years.
If you, someone you know, or someone who uses your service would be interested please see the linked documents:
People can apply by emailing an application to ncp.disability@hse.ie. Different formats of application can be accommodated if required.
If you have any questions you can contact Jacinta Bourke on 01 6352884.