Transport and Disability: The Facts
DFI Factsheet - Transport
Issued on March 1 2017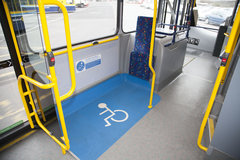 Almost 50% of people living with a physical disability have difficulty going out.[1]
UN CRPD
Once Ireland ratifies the UN CRPD, private transport companies will have to take into account all aspects of accessibility.[2]
Private Transportation
Public Transportation
1 in 4 people with a disability do not use public transportation because they don't find it accessible.[5]
Buses
Trains
Taxis
Most rail and bus providers require 24-hours notice if wheelchair users plan to use their service. Lifts frequently out of order, coupled with staff shortages, results in people with disabilities avoiding public transport rather than trying to cope with the numerous difficulties they have to encounter.[10]
[1] CSO (2006) National Disability Survey
[2] UN CRPD Article 9
[3] Watson, D. & Nolan, B. (2011) A social portrait of people with disabilities in Ireland. ESRI
[4] Kildarestreet.com comment by Finian McGrath March 2017
[5] Watson, D. & Nolan, B. (2011) A social portrait of people with disabilities in Ireland. ESRI
[6] Oireachtas Library and Research, March 2017
[7] Irish Wheelchair Association http://www.iwa.ie/information/iwa-articles/youth-articles/club-cafe-news/item/public-transport-2
[8] Irish Wheelchair Association http://www.iwa.ie/information/iwa-articles/youth-articles/club-cafe-news/item/public-transport-2
[9] NTA (2016) Taxi Statistics for Ireland. Statistical Bulletin Number: 01/2016
[10] Watson, D. & Nolan, B. (2011) A social portrait of people with disabilities in Ireland. ESRI