The Neuro Mapping Project Report
Issued on April 19 2023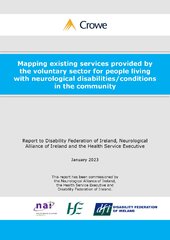 Full Text
Download
Summary
The Neuro-Mapping Project Report was launched in 19 April. It is a joint partnership between the Health Service Executive (HSE), the Disability Federation of Ireland (DFI) and the Neurological Alliance of Ireland (NAI).
The Neuro-Mapping Report, which was funded by the Strengthening Disability Fund, describes the breadth of community services across the country that people with neurological conditions can access from voluntary organisations, and identifies a number of joint service initiatives between voluntary organisations and the HSE.
A summary of the report is available in leaflet/text and audio formats.