Newsletter November 2011
Issued on November 8 2011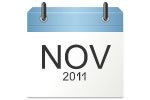 Full Text
Download
Summary
This is a very busy time for your organisation, just as it is for DFI. While it may be tempting to speculate and worry about what Budget 2012 has in store, DFI urges instead that each of us, during these precious weeks, exert every effort to influence the decisions being taken by the Government in its first Budget.
In Budget 2011 we were successful in keeping service cuts down to 1.8%. At the same time we were unable to prevent severe cuts to people"s income support. The situation is even more threatening for 2012.
We must get the message across, that any further undermining of the income and service supports for people with disabilities has seriously negative social consequences, and that these consequences will emerge while this Government is in office.
In all of DFI"s work with Government Departments, political parties, member organisations and with members of the Oireachtas, we are repeatedly naming disability and mental health, not as sectoral issue, but as a societal issue which requires an infrastructure of services, supports, and income levels to be available. We are trying to get Government to focus on the consequences of decisions to cut services and income levels, namely that cuts erode Ireland"s social infrastructure.
As mentioned last month, DFI, along with nine other umbrella / cluster disability organisations are making the point that we are now bordering on unsustainability in relation to on-going service provision. We are working closely with other organisations in the sector, through the Disability Stakeholders Group (DSG) and the Community and Voluntary Pillar to convey the message that social justice is in jeopardy. For example, we strongly made these points when Pillar members met Ministers Noonan and Howlin recently.
Given the damage further cuts would bring, it is beholden on each of us involved in disability to "pull out all the stops" so that this Government is under no illusions about their responsibilities to people with disabilities, and the effects of decisions that they will make in Budget 2012.
John Dolan
CEO