Newsletter March 2011
Issued on March 7 2011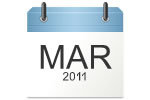 Full Text
Download
Summary
The major focus of our recent work has been the General Election. The election campaign focussed little on social issues other than unemployment. However DFI's persistent efforts to present disability as a social insurance, and not just a special interest issue, and flagging the importance of protecting benefits and services as key elements of that insurance, paid off in the final Leaders' debate. Both Labour and Fine Gael singled out disability, including mental health, as a priority. We described this as groundbreaking, but let's see if it turns up in the Programme for Government, and that they get on with prioritising Disability and Mental health.
We built our campaign around our document 'Securing Our Future'. We focused on contacting all candidates in relation to our issues and placed particular attention on influencing the manifestos of the Parties. We secured written commitments from each of the main parties including a commitment to have a National Disability Strategy plan. We also worked closely with all the other disability umbrella groups. Since the election we have been focusing on directly influencing the Programme for Government and planning for engagement with the changed Oireachtas membership.
DFI has written to the Leaders of Fine Gael and the Labour Party underlining the key commitments made during the election campaign, to prioritise people with disability and mental health needs. Both parties are in agreement that disability and mental health is the priority social justice and equality area to be progressed. This along with their earlier commitments, to DFI, to putting a plan in place to protect and advance the National Disability Strategy, is very welcome. It is now a matter of leadership and commitment from the leaders of our new Government. It is important that the new Government appoint a Minister with specific responsibility for disability and that all Departments involved co-ordinate their efforts to maximise outcomes.
John Dolan
CEO