DFI Programme for Government Briefing 14.06.22
Issued on June 17 2022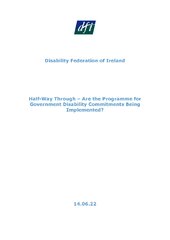 Download
The government is engaging with employer and trade union representatives to discuss a response to the escalating cost of living crisis. DFI is clear that any agreement must specifically and significantly include disabled people and their families, whose day to day lived experience is one of continued poverty and social exclusion.
This week, the Disability Federation of Ireland wrote to the Taoiseach Micheál Martin in relation to this. Read our letter here. We also wrote to other key government figures, namely: Leo Varadkar, Tánaiste and Fine Gael leader; Eamon Ryan, Minister for Transport and Green Party leader; Paschal Donohoe, Minister for Finance; Michael McGrath, Minister for Public Expenditure and Reform; and Anne Rabbitte, Minister of State for Disability.
We attached with our letters a briefing note on the government's progress to date in implementing the Programme for Government. A government agreement with the employers and trade unions which does not specifically and significantly include disabled people and their families would be a repudiation of the programme for government disability commitments and would greatly worsen their already disadvantaged daily lives.
DFI are seeking confirmation from the government that the disability community will be specifically protected and supported through the outcomes from these negotiations. And that this will be done in the context of the ongoing and acknowledged poverty and exclusion that disabled persons and their families routinely face.