DFI Annual Report 2022
Issued on June 29 2023
Download
A Letter from our Chairperson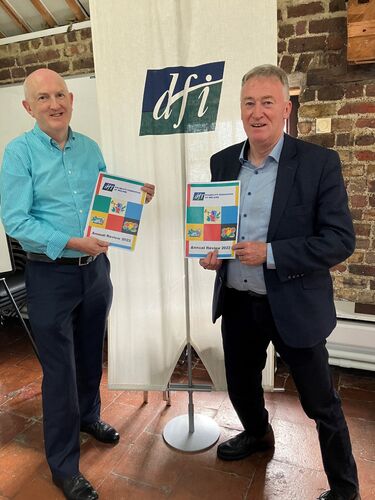 2022 was the first year of our new four-year strategic plan with its emphasis on advocacy on behalf of our organisations and people with disabilities and ensuring our organisations are engaged with the Federation. To support the plan new organisational structures were introduced as well as the recruitment of key new staff including Dr Emer Begley, as Director of Advocacy and Brenda Drumm, as Communications Manager.
Our advocacy work over the year continued to focus on the full implementation of the UN CRPD. The Federation also highlighted the disproportionate number of disabled people living in poverty. The Indecon report on the Cost of Disability outlined the additional costs that people with disabilities were confronted with before the recent cost of living crisis.
For the first time ever, the budget in October 2022 included a Disability Support Grant of 500, a small but crucial first step in the right direction.
The Federation also published The Right Home: The Housing Needs of People with Disabilities, a joint report with the Citizens Information Board, that included a series of recommendations to address the housing issues raised in the report.
Throughout the year DFI was an active contributor in the work of the Health Dialogue Forum to create a better relationship between voluntary organisations and the state. The Federation continued to highlight serious recruitment and retention challenges experienced by our members and the need to restore pay parity with the HSE for section 39 organisations.
We also sought the extension of the pandemic recognition payment to voluntary organisations.
This is just a flavour of the varied and valuable work of DFI in 2022. I would like to thank my fellow Directors, our committee representatives and all the staff for their hard work and commitment to the Federation throughout the year.

Fran Brennan
Chairperson


Photo above shows Chair of the DFI Board, Fran Brennan and John Dolan, CEO of the DFI at the AGM of the Disability Federation of Ireland which took place on Thursday 29 June 2023.