DFI and AHEAD - Leaving Cert Calculated Grades Submission
Issued on May 20 2020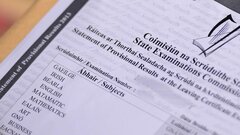 Download
AHEAD and DFI made a joint submission to the Department of Education on the calculated grading process put in place for the Leaving Certificate in response to COVID-19. This grading process involves predicted grades by teachers, schools and the Department of Education for students. It will determine students' final Leaving Certificate grade.
The safety and wellbeing of students is of primary concern. DFI appreciate the decision made by the Department was a difficult one and the fairest given the circumstances.
However, there are issues that need to be considered by teachers, schools and the Department when calculating grades for students with disabilities. We must ensure they are treated fairly and provided with a grade that reflects their true ability.
The submission outlines these issues such as lack of reasonable accommodations in class exams, low attendance due to disability, lower teacher expectations of students with disabilities, and school profiling.
As one Leaving Certificate student told the Dyslexia Association of Ireland:
"I am not a leaving cert student but I was in 2018. The school I went to had two particular teachers telling me daily that I was going to fail the leaving cert….when I sat my Leaving Cert, I got the best grades I have ever gotten in that school as I was given a reader and a separate room for my Leaving Cert. How are teachers meant to predict grades when their students haven't been given the right resources to thrive?"
The issues outlined in the submission must be taken into account to ensure that students with disabilities are treated fairly and have the same opportunity to advance to further and higher education.