Make Way Day 2023 to take place on the streets where you live tomorrow 
September 21 2023
#MakeWayDay23 to take place on the streets where you live tomorrow
Make Way Day 2023 is taking place on the streets where you live tomorrow, Friday 22 September.
#MakeWayDay is a campaign that brings the disability and wider community together to consider the needs of people with disabilities in the public spaces we all share.
People with disabilities will be out tomorrow along with disability groups and local organisations to highlight obstacles that block the way and complicate the lives of people with disabilities such as:
Cars or vans parked on a footpath blocking the way
Bicycles/motorbikes chained to lamp posts creating a trip hazard for a visually impaired person.
Illegally placed sandwich boards, forgotten bins, barrels and other obstructions.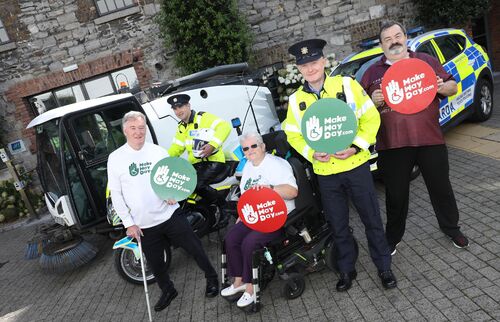 Commenting ahead of Make Way Day, DFI's CEO John Dolan, said, "Access is the most basic of all disability rights. The public footpaths are for everyone and we can all agree on that. In a wider context, Make Way Day refocuses the mind on people with disabilities, their lives, and needs, especially in the public spaces that we all share."
DFI will also be partnering with An Garda Síochána again this year as they run Operation Enable across the country.
We will be using our online survey tool again this year to gather information on the obstacles that people meet on their streets. The tool is available now on www.makewayday.com.
Photos and videos will also be taken and shared on social media using #MakeWayDay23.
ENDS
Notes for editors:
Operation Enable is a nationwide campaign operated by An Garda Síochána to clampdown on people parking in disabled spots without proper parking badges.
For media contact:
Brenda Drumm, Communications Manager, Disability Federation of Ireland, 086 076 4114 brendadrumm@disability-federation.ie.