John Dolan's SSNO Funding Cuts Speech
July 10 2014
9th July 2014
Dublin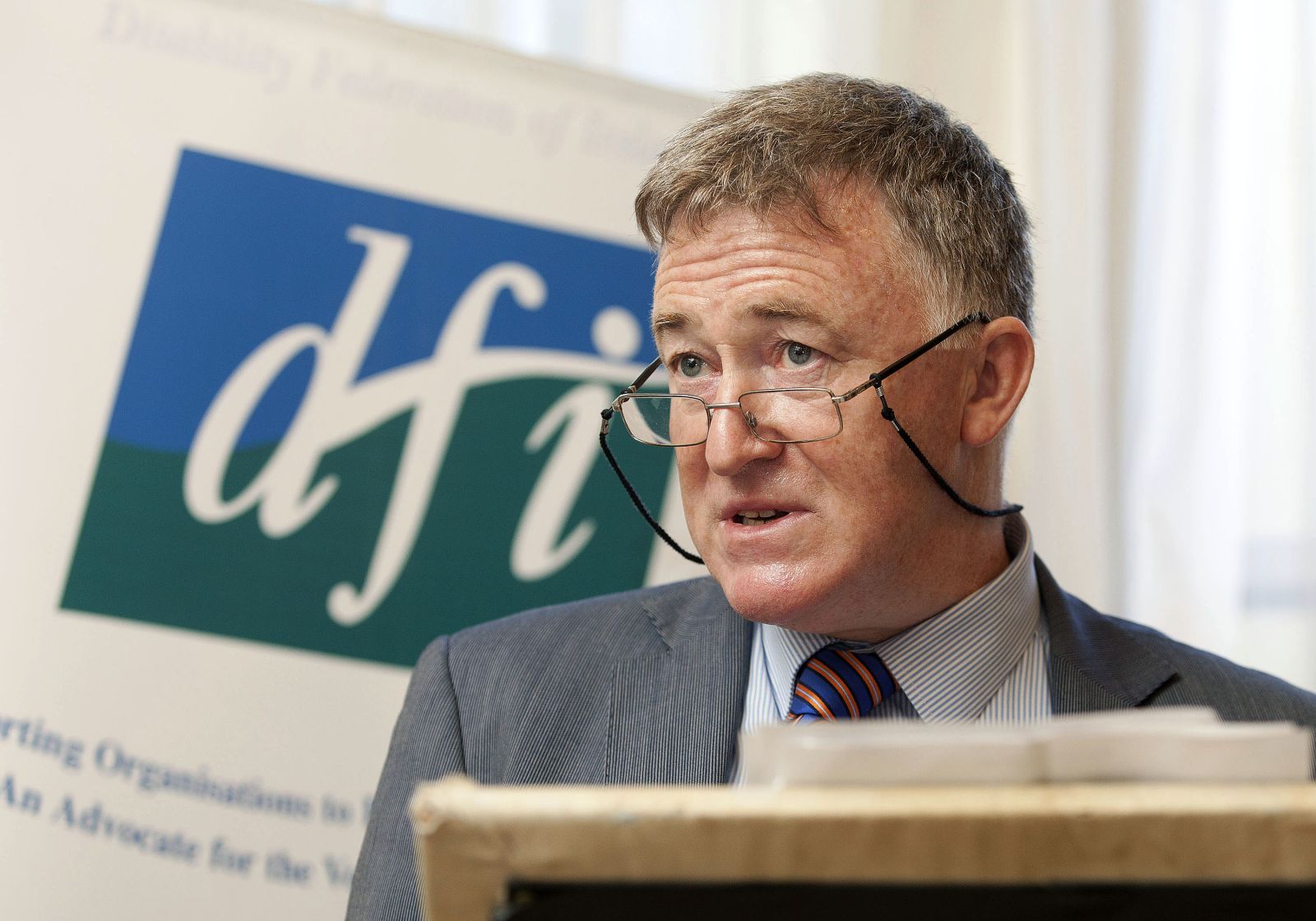 Just over a week ago, 26 disability and caring-focused organisations learned that their funding through the Scheme to Support National Organisations in the Community and Voluntary Sector (SSNO) is to be revoked. As the days have progressed, it has become ever clearer just how badly the outcome of this decision is hitting these organisations and those they support. Today's event is about their future and the future of people with disabilities and their families in Ireland. More precisely, it is about whether they will have a future. DFI is calling on the new Cabinet, expected to be announced today, to enact measures to restore this funding, and to ensure that Government's own implementation mechanisms for the National Disability Strategy (NDS) are met. The situation clearly demonstrates the need for a Minister of Disability to be instated, bringing disability issues to the Cabinet table and safeguarding core services in the sector.
Whilst we are pleased that many organisations have received funding as part of the scheme, we are gravely concerned that the withdrawal of funding to 26 organisations will have a devastating impact on the very fabric of community services for people with disabilities. SSNO funding has played a pivotal role in building the mainstreaming community infrastructure which the thousands of people with disabilities and families need and now rely on. Over the past five years, the disability movement has been hit hard by the steady corrosion of vital services and supports which allow these people and their families the dignity and independence they are entitled to. The withdrawal of this funding represents another devastating blow for the sector and highlights, yet again, the lack of any meaningful understanding from Government of the challenges facing people with disabilities.
The announcement of the allocations for the 2014-2016 round of the scheme came through Pobal on Monday last, revealing that 26 disability and caring-focused organisations will lose their funding. A shift in focus in the scheme has left many health and disability-related organisations stranded and battling for survival. To put it in context, almost half of the 64 participating organisations in the 2011-2013 round of the SSNO held a disability or caring orientation; this round sees just 55 organisations receiving funding, seven of which are disability-focused. Although some new disability organisations will acquire funding under the scheme, the vast majority of those previously supported have now seen that backing rescinded, at a total loss of approximately €1.2 million per annum.
The impact that this will wreak on an already struggling sector is immeasurable. These grants were used to finance – sometimes partially, sometimes exclusively – essential services in the community, including family support work, primary and acute health services, advocacy services, national help-lines, early intervention services and information provision. These services all remain vital in enabling people with disabilities and their families to live with security, flexibility and well-being in their own communities, but the withdrawal of funding to the organisations who provide them immediately places each of them in jeopardy.
Already, we have seen a number of organisations forced to reduce and even close some of their services and supports, and we are fearful for the many more which will undoubtedly have to follow suit over the coming weeks and months. Just taking a glance at the impact the retraction of this funding is having sends a message of the enormity of the situation, both for the organisations affected and for the thousands of people and families they support:
The Irish Deaf Society has had to close its Deaf-forward advocacy services.
Brí has lost its office and two staff, and is now run on an entirely voluntary basis.
The Migraine Association risks losing one third of its staff.
The Irish Motor Neurone Disease Association has had to end its frontline Visitor Programme.
MS reland will lose its Information, Advocacy and Research Officer.
Muscular Dystrophy Ireland now cannot fill its Frontline Facilities Manager position.
The Alzheimer Society will be unable to install early intervention services for people with dementia.
The Huntington's Disease Association has been forced to end direct frontline services, including counselling and carer meetings.
Chronic Pain Ireland will be forced to cease operations in less than 12 months.
The Neurological Alliance of Ireland will too have to cease operations unless other funding can be found.
In the same week that the CSO announced that the country's balance of payments current account has a surplus of €960m for the first quarter of the year, one of its Departments made a decision to cut the funding to 26 disability organisations. This amounts to a loss of approximately €1.2 million to the sector and will have a serious impact on the ability of organisations to provide much needed supports and services to people with disabilities and their families. Not only did these events take place in the same week, but in addition Minister Reilly launched the Rare Disease Strategy, which aims to create a "joined up model of care" for patients. Minister Reilly also announced the make up of the Healthy Ireland Council, to support the implementation of a "whole of government" approach to building up the stock of health and wellbeing in our population. It is painfully clear from these contrasting examples that there is no real communication happening across government departments around the issue of disability.
This government's National Disability Strategy Implementation Plan has structures in place to ensure that disability is seen as a cross-cutting issue, to provide to the proofing of decisions across government departments. This decision to cut funding from such a large number of disability-based organisations serves to highlight how this system is clearly not working. It also shows just how a lack of "joined-up-thinking" at government level impacts negatively on the communities and services available. The potential of the Rare Disease Strategy and the Healthy Ireland Council announcements has been completely undone by Minister Reilly's party colleague, Minister Hogan, reducing vital funding to a range of organisations that are dedicated to supporting people with disabilities in the community, a motivation supposedly in line with the disability policy of the Government.
These cuts come on top of, and further compound, the devastating effects of ongoing cuts to both disabled people and their organisations over the last number of years. There has been average cuts of 4.1% to the Disability Allowance, Invalidity Pension and Carers Allowance since 2011, a 19% cut to the Respite Care Grant, the abolishment of the Telephone Grant, and the introduction and increase of prescription charges. People's medical cards are also being targeted, with the government having committed originally to a target of €113 million in savings from a review in 2013. Organisations that work with people with disabilities have equally been effected, with the withdrawal of almost €160 million of HSE funding to disability organisations.

The developments from organisations mentioned earlier come within a week of the allocations coming through – we can only imagine the fallout and outcomes that these funding cuts will inflict in the months ahead. Many of these organisations are assisting people who live with rare and niche conditions, providing the services, support, advice and information which the Government and the Health Service Executive (HSE) consistently struggle to deliver. They have already endured significant and sustained cutbacks, while, at the same time, tackling unprecedented and ever-growing levels of unmet need and demand for their services. The withdrawal of funding through the SSNO now means that these organisations are being further withered away, through now inevitable staff reductions and service curtailments, despite their continual efforts not to let this happen; the damage done to them only serves to deepen the immense hardship and difficulties experienced by those they support.
At this rate, by the end of next year, we will no longer have the basic elements in place to support people with disabilities. No amount of statistics can dig deeply enough to reveal the real impact of the cuts to supports, the reduction in services, and the effect of funding decisions like this has had on our country's disability organisations and the people they work with during this recession. Seven years of austerity is a long time for those who were already struggling at their commencement. This is an issue that demands immediate and resolute action. The challenges facing people with disabilities and the organisations working with them should no longer be ignored by Government; however, the decision to revoke much-needed funding from an already tightly squeezed sector only serves to intensify them. We cannot underestimate the effect this decision will have on the performance of the National Disability Strategy, undermining, as it does, the implementation mechanisms put in place by Government itself.
Those involved in Government have to regularly confront decisions on the spending of public money, and, in that, they must understand that what they determine reveals exactly where their priorities, values and motivations lie. Clearly, and in the face of promises previously made, they don't lie with disability. This has to change, and it has to do so rapidly: there are no excuses. We cannot, for example, let the Cabinet reshuffle, which looks set to take place today, be seen as a reason for allowing this hugely serious issue to slip between the cracks. After so many years of austerity, the Government now needs to prioritise people with disabilities by establishing plans to reinvigorate the organisations it has devastated, restore the services and supports it has cut, and bring about the full inclusion of people with disabilities.
Disability and long-term illnesses take up residence in every home at some stage, and only a strong and thoughtful health and social infrastructure successfully offers protection against that. Government needs to demonstrate its ambition and commitment to people with disabilities by enacting measures which work effectively to deliver that. The future of this country is very much bound up with whether we're going to be an open, inclusive and participatory society, and this future must fully include people with disabilities.
This morning, we are calling for two things. Firstly, a new, stable funding stream must be identified to continue funding these crucial services in the community, in line with government policy. It is unacceptable that so many community based disability focussed services have had to close down some or all of their activities. The funding cut from these services must be reinstated. Secondly, it is plainly visible that there is a lack of communication between government departments when it comes to the issues surrounding disability. The National Disability Strategy calls for cross departmental cooperation and understanding, yet this is obviously not happening. What is desperately needed is a Minister for Disability which can sit at the Cabinet table- much like the Minister for Children and Youth Affairs. This will allow for better implementation of the National Disability Strategy, and for disability issues to be considered across departments.
The Disability Federation of Ireland (DFI) represents the interests and the expectations of people with disabilities to be fully included in Irish society. It comprises organisations that represent and support people with disabilities and disabling conditions.
The vision of DFI is that Irish society is fully inclusive of people with disabilities and disabling conditions so that they can exercise their full civil, economic, social, and human rights and are enabled to reach their full potential in life. DFI's mission is to act as an advocate for the full and equal inclusion of people with disabilities and disabling conditions in all aspects of their lives.
There are over 120 organisations within membership, or as associates, of DFI. DFI also works with a growing number of organisations and groups around the country that have a significant disability interest, mainly from the statutory and voluntary sectors. DFI provides information, training and support, networking, advocacy and representation, research and policy development / implementation, and organisation and management development. DFI works on the basis that disability is a societal issue and so works with Government, and across the social and economic strands and interests of society.

Disability Federation of Ireland, Fumbally Court, Fumbally Lane, Dublin 8
Tel: 01-4547978 Fax: 01-4547981
Email: info@disability-federation.ie Web: www.disability-federation.ie
The Disability Federation of Ireland is a company limited by guarantee not having share capital, registered in Dublin. Registered No. 140948, CHY No 6177