One week countdown to International Day of Persons with Disabilities and #PurpleLights22
November 25 2022, 11:39am
The one-week countdown is underway to this year's International Day of Persons with Disabilities and the Purple Lights campaign.
The Purple Lights campaign sees Government buildings local and national, major companies, civic and educational institutions are all turning purple to celebrate the UN International Day of Persons with Disabilities on December 3rd.
Speaking about #PurpleLights22, the campaign's founder, disability activist Gary Kearney said, "This campaign is something very close to my heart. It's a day of celebration, inclusion and awareness where we shine a light on disability. I am really looking forward to seeing this year's engagement with the campaign. I have no doubt that we will have a wonderful response to the day."
We have heard that quite a few landmark buildings will be turning purple again this year including City Hall in Dublin, The Convention Centre, Garda HQ and many more. We will also have the Rock of Cashel lit up in purple as well as White's Bridge in Athlone. More landmarks are being added to the list daily. There will also be a few buses wrapped in purple in Dublin and in Cork.
We have created a suite of resources for December 3rd which can be downloaded for use on websites, social media or to display on notice boards. These can be downloaded from here
Get sharing on social media! #IDPwD22 and #PurpleLights22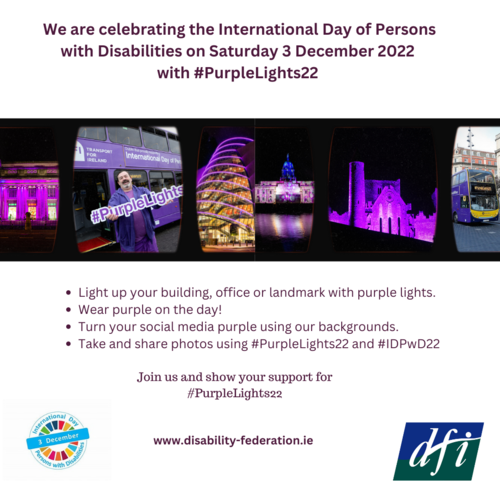 You can follow the campaign on its hashtag #PurpleLights22 and start readying your purple lights and dusting off your purple clothes!
We would love to hear how you are marking the day. Please feel free to tag us on your social media posts.
International Day of Persons with Disabilities 2022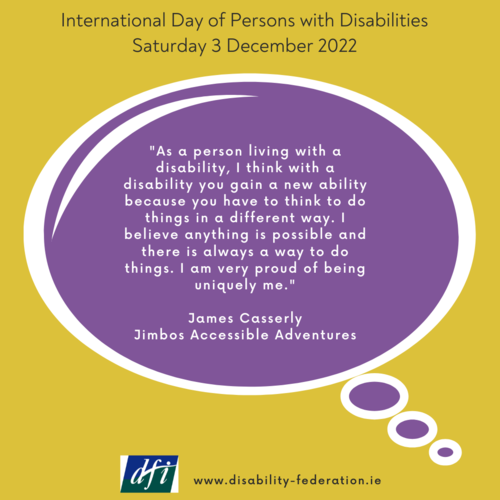 The annual observance of the International Day of Persons with Disabilities (IDPD) on 3 December was proclaimed in 1992 by the United Nations General Assembly resolution 47/3. The observance of the Day aims to promote an understanding of disability issues and mobilise support for the dignity, rights and well-being of persons with disabilities.
The theme this year is "Transformative solutions for inclusive development: the role of innovation in fuelling an accessible and equitable world". You can read more about this year's theme here. International Day of Persons with Disabilities (IDPD) 2022 | DISD (un.org)
We have prepared a series of inspirational quotes on disability which we will be sharing next week and on the day itself, including this one from James Casserly. These are available to download and to share.
Please feel free to use our resources as we would be grateful for as much amplification as possible on social media on the day [even though it's a Saturday!] We in turn will be more than happy to share your posts about #IDPwD22.
Here's to a great #PurpleLights22 and #IDPwD22. Thanks in advance for your support. 😊
See additional quotes to download below. These will also be available across our social media
Twitter | Facebook | Instagram | Tik Tok
ENDS