Disability Federation of Ireland, DFI with the Health Service Executive, HSE and the Neurological Alliance of Ireland, NAI Joint Project
June 2 2022, 04:28pm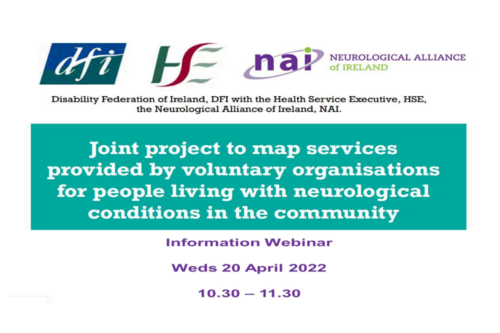 Disability Federation of Ireland, DFI with the Health Service Executive, HSE and the Neurological Alliance of Ireland, NAI Joint Project
Disability Federation of Ireland, DFI with the Health Service Executive, HSE and the Neurological Alliance of Ireland, NAI have come together to deliver a joint project to map services provided by voluntary organisations for people living with neurological conditions in the community.
What is this project about?
This project will map services provided in every Community Healthcare Organisation, CHO region, for people living with a neurological condition aged 18 to 65 years.
Why is this project taking place?
As part of the implementation of the HSE Neurorehabilitation Strategy, local implementation teams will be responsible for a quantitative mapping of service provision in their own CHO. In preparation, this project is required to ensure all the relevant services are captured when the mapping takes place.
We need your input!
• We know that the services that you provide are vital in supporting people living with neurological conditions.
• It is important that your work is captured and recognised.
• We are asking all the community and voluntary organisations to participate in a survey in May.
• Your participation will help us capture the range of community services that are provided by voluntary organisations to people living with neurological conditions.
What will the result be?
• The result will be a national picture of the services available.
• The results will be used to support greater understanding and planning of services for people with neurological conditions.
For further information: If you have any queries in relation to the project, including whether it is applicable/relevant to your own organisation, please feel free to contact mrogers@nai.ie or marie.lynch@disability-federation.ie