Beach Wheelchairs – Our guide to where to find and how to book
June 1 2021, 06:48pm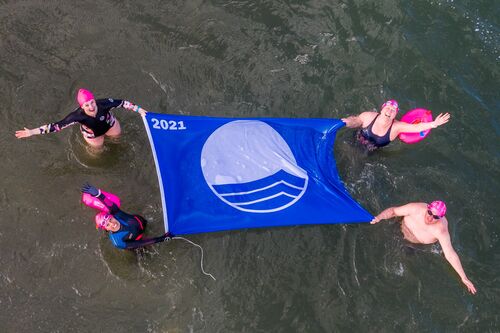 A record number of Irish beaches were awarded a Blue Flag this year and the highest number ever also offer beach wheelchairs. See our up-to-date list below with contact information for booking.
DFI believe people with disabilities should not be excluded from one of the defining experiences of an Irish summer – a day out with family or friends on one of our magnificent beaches.
DFI's woman in the South, Áine O'Sullivan, is part of An Taisce's Blue Flag jury since 2019. We're working to make access to beaches a more important part of the prestigious Blue Flag award.
"Beach days can be a very exciting day for all the family, but unfortunately not all can have the same experience as some Irish beaches are just not suitable for people with mobility issues. Plan ahead and enjoy what Ireland has to offer you", said Áine
DFI's Community Development team often work with local authorities to open-up Irish beaches. This work takes many forms from improving the pathways to providing ramps to beach wheelchairs.
A great resource when looking for a beach is this site; https://www.beaches.ie/find-a-beach/#/ Once you input a search criteria, you can add filters, such as "Disability Access" and find wheelchair accessible beaches. A separate filter for beach wheelchairs will show you where to go in your area.
It should be noted that some of the beaches providing beach wheelchairs do not have the Blue Flag and not all Blue Flag beaches have disability access. So it's best to plan ahead using these resources while we continue to work towards better access on all.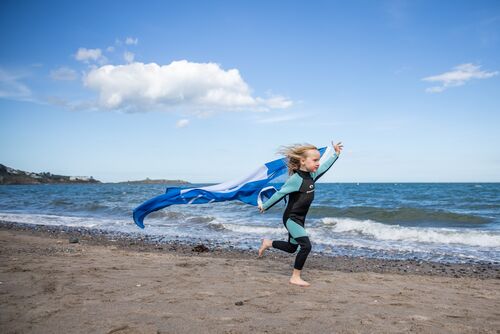 See our up-to-date list below with contact information for booking.

Location

County

Contact Details

Website

Blue Flag

Kilkee

Clare

Available through July and August 11am to 5:30pm. To make a booking please call Kilkee Waterworld 065-9056855

https://www.beaches.ie/find-a-beach/#/beach/IESHBWC070_0000_0400

YES

Lahinch

Clare

Available through July and August. To book please contact Lahinch Seaworld on 065-7081900

https://www.beaches.ie/find-a-beach/#/beach/IESHBWC100_0000_0100

YES

Warren, Cregane Strand

Cork

Rosscarbery Pitch and Putt Club are the people to contact at 087-2186529 or Email address: shangrila@eircom.net

https://www.beaches.ie/find-a-beach/#/beach/IESWBWC110_0000_0100

YES

Redbarn Youghal

Cork

The Quality Hotel & Leisure Centre Redbarn on 024-93095.

Booking Times: 11am until 7pm
2 hourly slots available: 11-1pm, 1-3pm, 3-5pm and 5-7pm
Availability: Weekdays & Weekends up until 31st August, Weekend Availability until 12th Sept. This is due to beach lifeguards being available to support use of the chair.

https://www.beaches.ie/find-a-beach/#/beach/IESWBWC020_0000_0100

Carrickfinn

Donegal

Beach Wheelchair is available at Donegal Airport by arrangement – 074- 9548284

https://www.beaches.ie/find-a-beach/#/beach/IENWBWC160_0000_0200

YES

Downings

Donegal

Beach Wheelchair is available via the Downings Tidy Towns by arrangement - 087 6152351

https://www.beaches.ie/find-a-beach/#/beach/IENWBWC190_0000_0100

YES

Marble Hill

Donegal

A beach wheelchair can be booked via David Friel at david.friel@donegalcoco.ie or 087 7801596.

https://www.beaches.ie/find-a-beach/#/beach/IENWBWC190_0000_0200

YES

Naran

Donegal

Before your visit please contact, Mary Nicholson at 074 9545216.

https://www.beaches.ie/find-a-beach/#/beach/IENWBWC120_0000_0100

YES

Rathmullan

Donegal

To book your beach wheelchair contact Aengus 086 8123019, rathmullanwatersports@gmail.com or www.rathmullansailing.com

https://www.beaches.ie/find-a-beach/#/beach/IENWBWC220_0000_0200

NO

Rossnowlagh

Donegal

Rossnowlagh Beach wheelchair is available from the Sandhouse Hotel and Marine Spa. Tel: +353 (0) 71 9851777 or email info@sandhouse.ie

https://www.beaches.ie/find-a-beach/#/beach/IENWBWC010_0000_0200

YES

Dollymount

Dublin

Beach wheelchairs can be booked by emailing pat.corrigan@dublincity.ie.

https://www.beaches.ie/find-a-beach/#/beach/IEEABWC090_0000_0400

NO

Donabate, Balcarrick Beach

Dublin

A Hippocampe beach wheelchair chair is available at Balcarrick Beach, Donabate during August by contacting the Shoreline Hotel on 01 8346153. You are strongly advised to book in advance to avoid disappointment. You will be asked to complete a booking form and to present a valid ID as proof of identity.

https://www.beaches.ie/find-a-beach/#/beach/IEEABWC020_0000_0100

NO

Killiney

Dublin

There is beach wheelchair availability at Killiney Beach but this is only during the bathing season and only if lifeguards are on duty. You must first register for the service. Download copy of the registration form www.dlrcoco.ie, or call into the Civic Hub to pick up a printed copy.

https://www.beaches.ie/find-a-beach/#/beach/IEEABWC100_0000_0400

YES

Portmarnock, Velvet Strand

Dublin

A Hippocampe beach wheelchair chair is available at Portmarnock Beach by contacting 086-8222646. The service is free of charge, but you are strongly advised to book in advance to avoid disappointment. You will be asked to complete a booking form and to present a valid ID as proof of identity.

https://www.beaches.ie/find-a-beach/#/beach/IEEABWC070_0000_0200

YES

Skerries, South Beach

Dublin

You are strongly advised to book in advance to avoid disappointment, call 086-8090153. You will be asked to complete a booking form and to present a valid ID as proof of identity.

https://www.beaches.ie/find-a-beach/#/beach/IEEABWC020_0000_0500

NO

Salthill

Galway

To book beach wheelchair contact Amanda Scott - Amanda.Scott@abilitywest.ie, Phone: 091 540900. Advanced booking is advised.

https://www.beaches.ie/find-a-beach/#/beach/IEWEBWC170_0000_0200

YES

Ballinskelligs

Kerry

Contact Cafe Cois Trá, Ballinskelligs to book a Beach Wheelchair on 087 2965874. Available weekdays (up to 3 hours) 12 noon to 7 pm. Available weekends (up to 3 hours)- 11am to 7pm.

Further information is available on Kerry County Council's website www.kerrycoco.ie

https://www.beaches.ie/find-a-beach/#/beach/IESWBWC200_0000_0100

YES

Ballybunnion North

Kerry

Beach Wheelchair available for Ballybunnion North beach. To book: contact Collins' Seaweed Baths on 068 27469 Available times- Weekdays 12 noon to 6pm Weekends 11am to 6pm

https://www.beaches.ie/find-a-beach/#/beach/IESHBWC060_0000_0200

NO

Inch

Kerry

Beach wheelchair available for Inch. To book the beach wheelchair contact the Lifeguard Hut on 086 2663186. Available times (up to 3 hour slots): Weekdays: 12 noon to 7pm Weekends: 11am to 7pm

https://www.beaches.ie/find-a-beach/#/beach/IESWBWC230_0000_0200

YES

Clogherhead

Louth

Beach Wheelchair available from Celtic Canoes Clogherhead contact David Reddy (085) 8758092

https://www.beaches.ie/find-a-beach/#/beach/IENBBWC025_0000_0200

YES

Ballinesker

Wexford

To book contact Curracloe Holiday Villas 053-9137241. June to August inclusive.

https://www.beaches.ie/find-a-beach/#/beach/IESEBWC010_0000_0250

YES

Carne

Wexford

Available June to August inclusive. Located at public car park. Key from Carne Beach Caravan Park 053-9131131.

https://www.beaches.ie/find-a-beach/#/beach/IESEBWC050_0000_0300

YES

Courtown North

Wexford

TBC. Not available yet in 2021

https://www.beaches.ie/find-a-beach/#/beach/IESEBWC010_0000_0400

Curracloe

Wexford

Available May to October inclusive. Contact The Surf Shack 053- 9137679 / 087-7519194

https://www.beaches.ie/find-a-beach/#/beach/IESEBWC010_0000_0200

YES

Duncannon

Wexford

TBC. Not available yet in 2021

https://www.beaches.ie/find-a-beach/#/beach/IESEBWT100_0100_0100

NO

Kilmore Quay Small Beach

Wexford

To book Stella Maris Centre 053 9129922 or online at https://wexfordcoco.simplybook.it/v2/#book/service/8/. Beach wheelchair is available June to August.

https://www.beaches.ie/find-a-beach/#/beach/BPNBF330000250001

Morriscastle

Wexford

Contact Lawler's Shop 053-9130334 June to Aug inclusive.

https://www.beaches.ie/find-a-beach/#/beach/IESEBWC010_0000_0300

YES

Rosslare Strand

Wexford

Contact Centra Shop, Strand Road, Rosslare 053 9173060. June to August inclusive.

https://www.beaches.ie/find-a-beach/#/beach/IESEBWC010_0000_0100

YES

Brittas Bay North

Wicklow

The Beach Wheelchair is available at Brittas Bay North Beach 7 days a week from 11am – 7pm during the bathing season in June, July and August and over the first 2 weekends of September. Special requests can be made outside of this period. It must be reserved in advance using the booking system at https://www.wicklow.ie/Living/Beachwheelchair.

https://www.beaches.ie/find-a-beach/#/beach/IEEABWC140_0000_0300

YES