DFI Highlights Shockingly High Poverty Rates at Pre Budget Forum
August 5 2020, 12:20pm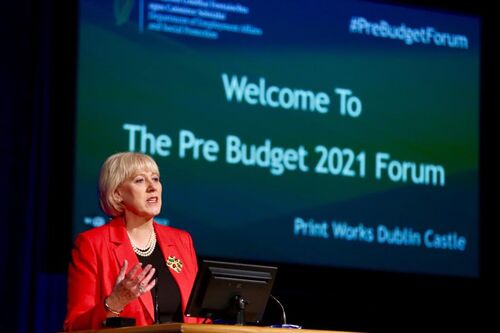 DFI attended the Department of Employment Affairs and Social Protection's annual pre-budget forum last week, along with many other community and voluntary organisations, including those working on disability and carers' issues.
It was a very different forum this year, due to the need to adhere to COVID-19 social distancing. This meant that unfortunately interaction and consultation were limited.
In her speech new Minister Heather Humphreys spoke about tackling poverty and social exclusion, and improving the living standards of the most vulnerable in society. Our pre-budget submission raises these issues and the need to improve the standard of living for people with disabilities, as well as the social protection needs of high risk individuals, and the need to ensure employment supports for people with disabilities are not deprioritised post-COVID-19.
People with disabilities have lived with strikingly, disproportionately high levels of poverty and low levels of employment for years, and Ireland is one of the worst performing countries in the EU in both these areas. Budget 2021 must urgently address this by committing resources to targeted measures to reduce poverty levels (notably by finally taking action on the extra cost of disability) and improve the employment possibilities for people with disabilities. The new budget must urgently address these striking inequalities in order to ensure that people with disabilities are not further left behind as we move into a difficult post-COVID economic scenario, and to deliver on Ireland's United Nations Convention on the Rights of Persons with Disabilities obligations to protect the rights, and ensure the equal treatment, of people with disabilities. Read the pre-budget submission here.