Graduates of QQI Level 8 'Project Management for Community and Voluntary Organisations
May 7 2019, 02:57pm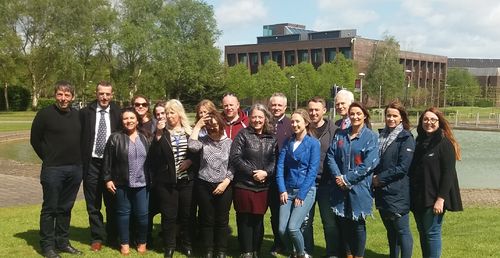 SOLA are pleased to present our 3rd cohort of graduates from our QQI Level 8 module, "Project Management for Community and Voluntary Organisations".
Fifteen students from various community, voluntary and disability organisations from around Ireland participated in the course which was delivered at the University of Limerick. 
This "Project Management" programme, along with our other 3 QQI Level 8 modules i.e., "Innovation towards the Management of Change"; "Quality Management Principles and Standards"; and "Problem-Solving Tools and Techniques"; have all been specifically tailored to meet the needs of community, voluntary and disability organisations. 
The Project Management course content includes
Understanding Projects and Organisational context
Project selection techniques, Risk Analysis and Failure
Managing Groups/Teams and Effective Leadership
Scheduling and Time Management
Successful Project Close Out and the Learning Organisation
The Disability Federation of Ireland (DFI), The University of Limerick (UL) and Johnson & Johnson (J&J), the SOLA Partners, would like to congratulate all our students on their achievement!
Testimonials
"I found the course very interesting, the content useful, and the group work an essential part of the course as it afforded individuals from different community sectors to 'pool' knowledge and problem solve": Liz Murray, Administrator, Churchfield Community Trust, Cork.  
"I really enjoyed my time on the Project management Course for the Community and Voluntary Sector with SOLA. The class tutor, John Noonan, is highly knowledgeable and breaks concepts down into manageable handouts that are easy to comprehend. He also explains project management in tangible, realistic terms, making the topic effortless to grasp. I really feel I gathered knowledge that I can effectively use in my current career and that will assist me as I move forward in this sector": Kelly Fitzgerald, Community Employment Assistant Supervisor, Tait House Community Enterprise, Limerick. 
"I found the course to be very interesting and engaging from start to finish. The tutor's delivery of the material was also excellent and made the course easy to understand and enjoy": Pat Quigley, Community Employment Supervisor, Burges Community Group Ltd, Tipperary. 
"This was a fantastic course and experience. I have to say John is a brilliant lecturer who really broke down the topics clear and concisely. I would like to be included with any emails that are sent in relation to further courses that you are running in the future if possible. I would fully recommend the course to anyone interested in project management in the community sector.": Tess Kelly-Stack, Southill Action Centre Officer, Limerick.