Help make Croke Park more accessible and win tickets!
July 5 2018, 09:51am
DFI are working with Croke Park to try and improve access for people with disabilities. It is such a part of Irish life, especially an Irish summer with great sporting, musical and also conference events. We're sure you agree people with disabilities should not be excluded, or have a fun day out turn into a problem solving excerise. 
So have your say by taking our survey and be in with a chance to win two great prizes. The feedback we get will go straight back to  inform Croke Park on improvements they need to make. 
WIN!!
one family pass for a skyline tour
match day tickets, excluding all-Ireland.
We will announce the winners on the 31st of July. 
Click here to take the survey and win!
Share the survey with your friends on Facebook and Twitter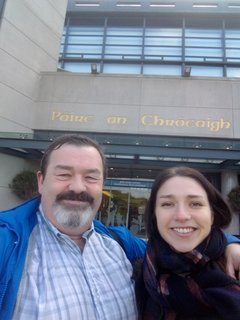 Pictured here, Gary Kearney Disability Activist and Aoife Delaney, DFI's Dublin based community worker outside Croke Park having met with representatives there.