SKILL Programme Graduations 2010
November 13 2013, 10:02am

Left to Right: Seán Healy (Manager of Galway CIL, congratulating staff on their sucessfull completion of the SKILL Training Prorgamme), Rita Niland & Mona Neenan, (Galway CIL graduates of SKILL Programme Health Service Skills FETAC (Level 5), Deirdre Fahey (Manager of Mayo CIL and today, graduate of SKILL Programme Supervisory Staff FETAC Level 6 Award, Cathy McGrath (DFI), Edel Cadden (Mayo CIL graduate of SKILL Programme Supervisory Staff FETAC Level 6 Award), Anna-Marie Kinsella (SKILLVEC).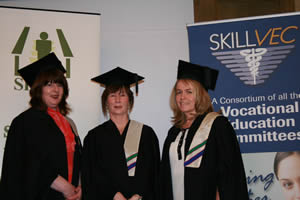 Left to Right: Deirdre Fahey, Edel Cadden and Bernie Mullarkey from Mayo CIL, all proud graduates of SKILL Programme.
The goal of SKILL Programme is to provide accredited training and upskilling of staff within the health sector, and thereby to increase efficiency and effectiveness within the workplace and in turn to increase the quality and standard of services provided.
Graduations for 2010 were held throughout November in Cork, Dublin and Galway. Graduating staff were conferred with awards for Fetac Level 5 Health Service Skills and Fetac Level 6 Supervisory Skills. Participants came together with their family, friends and employers and recognise and celebrate the successful culmination of all the hard work and the sacrifices which have had to be made by graduates.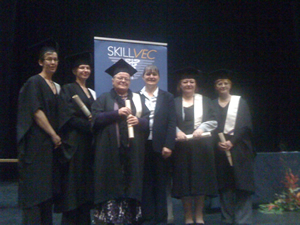 Left to right from MS Society: Zena Stewart, Anita Aldersone, Mary Flanagan, Margaret McGuire (line manager), Rose Tucker and Johanna Farrelly., receiving certification on 20th November in the Helix, DCU, in SKILL, FETAC Level 5 Health Service Skills Award. Congratulations and well done to everyone!
DFI would like offer congratulations to all staff who graduated from SKILL Programme 2010!