Meeting of the DFI National Health Advisory Forum, NHAF
3 February 2022, 11:30am - 1:00pm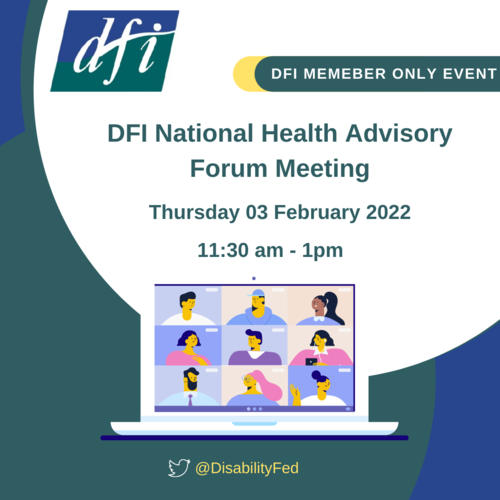 The DFI National Health Advisory Forum, NHAF is being established to ensure ongoing consultation with DFI members on issues addressed through our structures of representation at national level. FThe first meeting of the DFI NHAF took place on 11 November 2021, see presentation here.
The next meeting will take place on 03 February where we will be updating on the status of the Dialogue Forum, and key themes of health priority as represented accross the 20+ committees we represent on (see list here).
Click here to register your attendance.
For full meeting details in advance please contact
Cathy McGrath
Project and Membership Development Manager
Disability Federation of Ireland
086 384 7440
http://www.disability-federation.ie