New National Housing Strategy for Disabled People, 2022-27 Published
January 20 2022, 12:08pm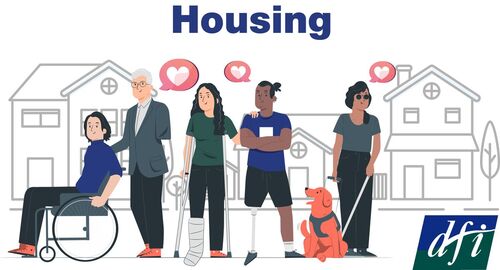 The publication of the new National Housing Strategy for Disabled People, 2022-2027 on Friday 14th January is very welcome. Disabled people, like others in Ireland, have been living with a housing crisis for years – with thousands waiting on housing lists, unable to afford to adapt their home or inappropriately housed. This policy was urgently needed, and will hopefully bring new energy, focus and resources to the area of housing for disabled people.
Very positively, the strategy uses the UN Convention on the Rights of Persons with Disabilities and the right to independent living as its anchor and starting point. The strategy focuses on the cross-Departmental and agency coordination and collaboration that will be needed to deliver this. It also joins the dots to broader housing policies such as Housing for All, and the need for disability to be considered in the ambitious housing plans for the future.
Ministers and government Departments will need to work closely together to achieve this. The strengthening of data collection, focus on implementation and monitoring, and strengthening of reporting processes and frequency are all welcome elements of the strategy.
The strategy was informed by the comprehensive, open and engaging consultation process undertaken by the Housing Agency, which was a model for accessible and meaningful consultation. DFI participated at all stages of the consultation, and a number of our suggestions have been taken on board. See our submission here.
It is imperative that new and additional resources are allocated to finance the strategy from all relevant government Departments. Local Authorities must be resourced to deliver on the stronger expectations of them in this strategy.
An implementation plan for the strategy will be developed by the Housing Agency, along with the Departments of Health, Housing, and Disability, Children, Equality, Integration and Youth. This plan must include clear and measurable annual targets. Disability organisations should be involved in the process of developing the implementation plan, as they were in the review and drafting.
Ireland must also move to adopt a universal design approach as it embarks on an ambitious new building programme, to ensure the new houses built in the coming years are accessible to all.