DFI urge Government to prioritise people with disabilities for COVID-19 vaccines
December 10 2020, 12:00pm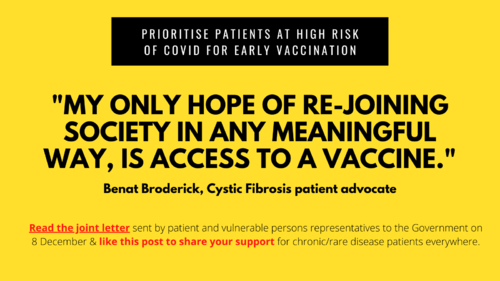 DFI are disappointed that the provisional COVID-19 vaccine allocation announced by the Department of Health does not mention people with disabilities. Many people with disabilities have co-morbid health conditions that place them at a high risk. In England and Wales, six in 10 COVID-19 deaths were of people with disabilities.[1]
In Ireland, there are over 9,000 people with disabilities living in residential settings. Many more people with disabilities and their families have been forced to cocoon at home due to complex co-morbidities, regardless of the levels of restrictions in place. Access to the vaccine is essential for their right to a good quality of life in their communities.
Furthermore, age is less relevant when it comes to the severity of the consequences of contracting COVID-19 for people with disabilities. In England, people with intellectual disabilities had a death rate up to six times higher than the general population. But for people with intellectual disabilities aged 18-34, the death rate was 30 times higher than the same age group without disabilities.[2]
On 8th December, DFI joined a coalition of fifteen patient organisations that wrote to An Taoiseach and the Chair of the High-Level Task Force on Vaccination and Immunisation. We asked that people with chronic and/or rare diseases of all ages are included in the highest priority group for receiving the COVID-19 vaccine. Many countries around the globe are including this group as a top priority and it is vital that Ireland joins them.
The coalition is also calling for representatives from the public to be allowed join the membership of the Task Force and for patient organisations and vulnerable group leaders to be urgently engaged in dialogue
Click here for more information and to read the letter.
[1] UK Office for National Statistics. Coronavirus (COVID-19) related deaths by disability status, England and Wales: 2 March to 14 July 2020.
[2] Public Health England. People with learning disabilities had higher death rate from COVID-19.