Waterford Centre for Independent Living - Everyone is worried about the cost of living but people with disabilities are probably more worried
February 13 2023
For this month's Member Spotlight DFI met with John Mc Donald, the co-manager of the The Waterford Centre for Independent Living (WCIL).
WCIL is a grassroots organisation whose main aim is to empower and enable people with disabilities to achieve independent living, choice and control over their own lives, and full participation as equal citizens in society. The organisation is run by people with disabilities, for people with disabilities.
WCIL was established in 1995 and is linked to the national and international Living Movement. It continues to have a hugely positive and lasting effect on people with physical disabilities, as well as their families and carers.
The first Irish centre was founded in Carmichael House, Dublin, in 1992 by a group of people with disabilities who were dissatisfied with existing services and constant disempowerment. The Independent Living Movement was founded in 1972 in Berkeley, California. As an organisation, it provides an advocacy role, striving to bring about a social model of service delivery and policy decisions that include input from people whose lives are directly affected.
Member Spotlight Interview - John McDonald Co-Manager of WCIL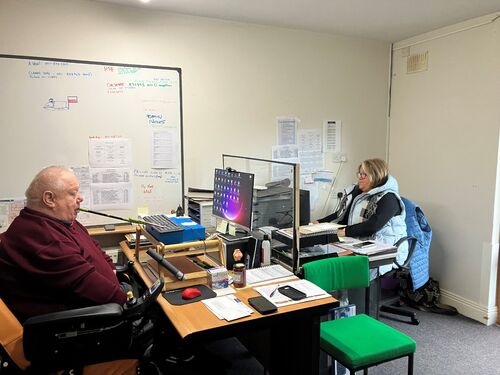 For this month's Member Spotlight DFI met with John Mc Donald, the co-manager of Waterford CIL.
John spoke to DFI's Brenda Drumm about the work they too, their ethos and their unique understanding of the needs of disabled people.
On the service they provide, John said, "WCIL is one of the few services run by people with disabilities for people with disabilities. The majority of our board are people with disabilities. We are a very busy organisation. We have our offices at Waterford Cheshire.
"A lot of our clients are with us many years. We don't always think we know their needs. We are learning as we go. We sit down and listen to people. We try to make our service homely for them."
John said the very ethos of WCIL and the Independent Living movement is to change the way disabled people are looked at by services. The key is in the title - independent living!
On the type of service they provide John said, "We want to make it a more social than a medical model. Yes, there are people who need a more medical model but if we can do it in a way that the the person with the disability is happy with it, happy to live at home or on their own, close to where they grew up, then we try to do our best to fit a service that suits the person. We try to bring people out to social clubs to workshops or just to Mass. A simple thing! A woman was on the phone to me recently. She's in her seventies and she just wanted to go to Mass once a month. I said I thought we could do better and get her there once a week. Well she nearly hugged me! It's important to know it's the little things that make people happy."
John went on to share some of the feedback that WCIL receives from users of their service. He said, "They can't get transport, they can't access a wheelchair taxi when they need to. Taxis are busy doing hospital runs during the day and taking groups at night. The main thing that we get feedback about is our transport service. We try our best not to turn people away. We transport between 80 and 100 people a week. That's major mileage!"
On their PA service John said it has to reliable, "If you are depending on someone to come into your house to get you up in the morning and they don't comet that is going to have a huge affect on the individual that we are providing a service to. We try to find an alternative if someone can't go. It's the difference between someone staying in bed for the whole day."
Speaking about the cost of providing a service to disabled people, John said, "There's always concerns. We always have concerns that we are not giving enough to people. Giving someone 45 minutes, three days a week - it's not enough! It's not nearly enough! It's not just the physical care they are getting - it's the emotional support and care. We are very lucky so far that we have maintained our service but the energy, the gas, the electricity and diesel costs! We provide transport and our costs for diesel alone were astronomical but we had to keep the service going. We struggle but we never let it affect the service we are providing. It's a worry! We have to get people to medical appointments and to work because work is important for disabled people. But it's a worry. Everyone is worried about the cost of living but people with disabilities are probably more worried because some of us may require more in terms of special foods, special clothing and things like that."
On the cost of living for him as a disabled person John said, "As a married person, my energy bills in the house are astronomical. People who are on basic disability allowance find it gets eaten up with energy bills, food, and then you worry are they buyng the right foods? A lot of peope are worrying if they will be able to get what they need. I was speaking to a person from Saint Vincent de Paul and she said they are getting a lot of referrals from disabled people who just need the basics. It affects us like everyone else.
Speaking about his wish list as a disabled person John said it would be, "To be treated as equal. To be treated with dignity and respect by the powers that be. I would love us not to be pushed down the ladder anymore. I think the disability organisations and the people with disabilities need to stand up for themselves and say to the Government we are not just people with disabilities - we are people at the end of the day! We want to be equal. It's a struggle. Everyone is struggling at the moment but we are struggling that little bit more!"
Click here to listen to our full interview with John.
Click here to watch John's Tik Tok Postcard!
To find out more about the Waterford Centre for Independent Living, click here.