Newsletter March 2012
Issued on April 24 2012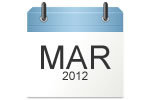 Full Text
Download
Summary
In a recent speech Ireland"s President, Michael D. Higgins, reflected on the importance of the community and voluntary sector in underpinning the resilience and cohesion of our society. His remarks at an Advocacy Initiative Forum are highly relevant for us involved in the voluntary disability sector (Dublin City Council, 13th Feb 2012).
He recognised the pressures we face, saying "Unfortunately, just when we most need a dynamic and effective community and voluntary sector, its capacity is under pressure as a result of the financial resources it receives from the public and the private sectors being reduced." At the same time he suggested that the promotion of cohesion across the diversity of not for profit organisations would strengthen our capacity to achieve a better future. A case in point is DFI"s training events to increase the ability of people with disabilities and their organisations to work with local groups to influence decisions about services in their communities.
The President also has some useful observations about keeping our focus on the persons we seek to support. In an aside he criticised the tendency to use bureaucratic language, and refer to "service users" and "clients"; he insisted instead on the word "citizen". He pointed out that the quality of life in our society, and the ultimate health of our communities, is greatly influenced by people becoming involved and active citizens. DFI and its members know that enabling people with disabilities to be full citizens is the ultimate test of our effectiveness as voluntary organisations.
A further point was made, about achieving real change, that DFI would strongly endorse. President Higgins commented that while advocating on behalf of the marginalised is important, "The tasks of advocacy, it is sometimes assumed, end with a success in achieving legislative initiative or change. You will know that the administrative delivery following a legislative change is often more important if more difficult." We in the disability sector have realised considerable legislative and policy change, but we have a very long and hard way to go in changing practice on the ground. We in DFI welcome our new President and his thoughtful and practical contributions to the conversation on Irish social policy.
John Dolan
CEO