Independent Living Skills - County Galway
September 18 2020, 01:06pm
The second day of the project registration took place on Thursday 17 September!
People interested in participating on training pending throughout the county came together in an event hosted by the Brothers of Charity, to support a safe, social distancing introduction session.
Participants and staff from Brothers of Charity Galway, and Galway Rural Development came together to register for the Independent Living Skills training taking place in Loughrea and Ballinasloe through Galway Roscommon Education Training Board.
With thanks to Galway Rural Development for delivering a great introduction to their role of support for people with disabilities and their families and carers. A great introduction to all attendees was given on the vast amount of available resources to people that GRD provide!
With a lot of time and effort put in by the project partners of GRD, GRETB, Brothers of Charity and Ability West, people were able to attend yesterday in a safe way, and get to meet all involved. With the valued roles of partners, people will be supported to recieve training, information and ongoing advice on Independent Living Skills in County Galway.
Project Background: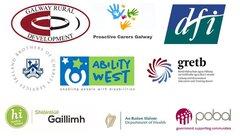 Led by DFI, project partners include the Brothers of Charity Galway, Ability West, Galway Rural Development, GRD and Galway Roscommon Education Training Board, GRETB. This project is funded by Healthy Ireland and replicates the valuable experience and structures of partnership established in the regional project 'Independent Living Skills, Community Healthcare West' throughout Galway County.




View this post on Instagram
View this post on Instagram