Nomination call out for DFI Representatives on Statutory Committees
February 22 2023, 10:00am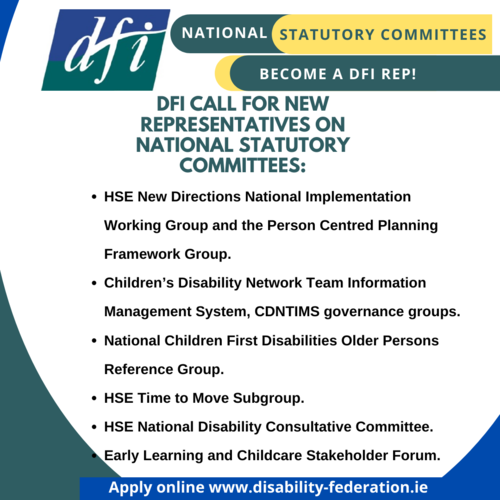 DFI represents its member organisations on over thirty National Health and other Statutory Committees (see health list here) and
We are calling for nominations from our members, for new representatives to a number of National Health Committees. Please note:
Nominees should have a working knowledge of each committee within their organisation.
Nominees must be able to carry out full roles and obligations as outlined in the General Protocol regarding appointment of DFI Representatives.
See the available nominations below for your regard. Terms of Reference and further information on each committee are available upon request.
One Nominee and one alternate to HSE Community Healthcare Organisation, CHO 7 Disability Committee as DFI CHO 7 Area Representatives. Apply here.
DFI represents member organisations upon the HSE National Disability Consultative Committee and across HSE CHO Disability Committees. The terms of reference for this work is outlined in the 2016 document. DFI staff will hold one position of representation to this committee. We are now seeking one member organisation nominee and one alternate member organisation nominee to join in representation of DFI member organisations to the CHO 7 Disability Committee. Prior to submitting an application to represent DFI on this committee, organisations are asked to ensure full capacity to represent, by reviewing the following specific guidelines for DFI Representatives on HSE CHO Disability Committees:
Within the context of the overall terms of reference for the National and CHO Disability Consultative Committee(s), CHO Area Representatives should hold the following skills and attributes:
Have a strong understanding of the National Disability Inclusion Strategy, NDIS, the United Nations Convention on the Rights of People with Disabilities, UN CRPD and the mainstreaming context within and beyond health.
In so far as practicable, be aware of and / knowledgeable of key disability policies which pertain to service provision including for example Transforming Lives, National Neurorehabilitation Strategy, the HSE Service Plan, the Assisted Decision Making (Capacity) Act, Progressing Disability Services for Children, PDS etc.
Be informed on relevant policies and positions within DFI and the systems of advocacy through the structures of DFI representation to HSE national health committees, through DFI advisory groups etc.
Have the capacity to think strategically about the implications / challenges and / or opportunities for the diverse membership of physical, sensory and neurological organisations across the DFI membership.
Have an understanding and appreciation of the broad membership and interests of DFI member organisations and wider sector.
Be able to promote and support the inclusion of others in progressing the work.
Be analytical and informed in order to balance the agenda of these Fora.
Have good listening, negotiation, persuasion and communication skills.
Have a good understanding of the nature, function and practice of delivering person centred services.
Bring a partnership and problem-solving approach to the work.
It is understood that participants will have time commitments in relation to attendance, participation and feedback to the broader constituency.
It is understood that DFI members on the Forum will be representing a varied and wide constituency of organisations, and organisational approaches.
It is also understood that DFI Representatives will have a responsibility to represent physical, sensory and neurological organisations which may not be in our membership.
One Nominee to the National Ability Supports System, NASS Committee.
DFI continues to represent the experience of our members on the National Ability Supports System, NASS. NASS captures information about the use and need for disability-funded services. NASS is managed by the National Health Information Systems Unit of the Health Research Board (HRB) on behalf of the Department of Health. We work to support our members uploading to NASS, and to represent member issues and feedback to the Committee. DFI is seeking 1 nominee to join in representation of DFI member organisations to the NASS Committee. Apply here.
One Nominee as Service Provider Representative Organsiation and One Nominee with Lived Experience to the HIQA Project:-Lexicon Expert Advisory Group
HIQA are currently undertaking a project to make anonymised information from notifications submitted to the chief inspector available to inform research both within HIQA and externally. This Project has recognised that a lexicon for use by service providers when completing statutory notification forms and by inspectors when reviewing same is needed. A lexicon is a list of standardised terms and definitions, already in use in other parts of health and social care. This lexicon, although specific to the statutory notifications in the context of residential settings, will likely have wider applications within social care settings. HIQA have established an Expert Advisory Group to support this project and through DFI welcome representation of both DFI Member Organisation Service Providers and DFI Member Organisation Supported Lived Experience of Residential Settings.
DFI is seeking through our Member Organisations the following:
1 DFI Member Organisation nominee to join in representation of DFI member organisations to the HIQA Project:-Lexicon Expert Advisory Group.
1 nominee supported through a DFI Member to join the HIQA Project:-Lexicon Expert Advisory Group.
DFI Nominees to the Home Care Coalition and its SubGroups of Advocacy and Finance - Apply here.
DFI is a member of The Home Care Coalition. The Home Care Coalition is an alliance of more than twenty organisations representing home care support services, older person services, disability services, personal assistant services, and advocacy groups. The members of the Coalition come from the not-for-profit Sector which has no financial interest in seeing any particular financial model being introduced.
DFI is seeking 2 nominees to the Home Care Coalition and welcome any further nominees to its 2 subgroups of Advocacy and Finance. - Apply here.
One Nominee to the HSE Home Share Working Group - Apply here.
This Group will the recommendations from the 2016 Home Sharing in Intellectual Disability Services in Ireland report. Contact Cathy for further details / - Apply here.
Children's Disability Network Team Information Management System, CDNTIMS National Project Oversight Group, POG. - Apply here.
To help further progress the implementation of the Progressing Disability Services for Children and Young People, PDSCYP, programme, the National Children's Disability Information Management System, IMS, Implementation Group recommended implementation of a national Children's Disability Network Team Information Management System, CDNTIMS, that supports team based performance management gathering, collation and analysis of data. For the next 18 months this work will be overseen and supported at national level by the National Project Oversight Group, POG, that meets every 1-2 months. This call is open to CEOs of DFI member organisations. - Apply here.
National Children First Disabilities Older Persons Reference Group. - Apply here.
This Group was established in line in with its terms of reference available on page 9 of this governance document. - Apply here.
HSE Time to Move On Subgroup. - Apply here.
Disabled people are supported to move from large institutions (congregated settings) to their own homes in the community with the supports they need. It is about supporting people to 'live ordinary lives in ordinary places'. See original terms of reference on p11 here.
Other National Statutory Committees
The Early Learning and Childcare Stakeholder Forum
This Forum is the main consultation mechanism between the Early Years division of the Department of Children, Equality, Disability, Integration and Youth and stakeholders. It is chaired by Minister Roderic O'Gorman. The membership is made up of stakeholder groups representing children, families, childcare providers, childcare staff, academics and other groups with an interest in early learning and childcare.
The Department provides updates on developments and challenges and consult with the forum's members. Members can express views and raise issues with the Minister and Department and contribute to the design of solutions. The DFI rep will have an important role in representing a disability voice on the forum.
The forum meets two to three times a year. In addition, sub-groups will be established for focused consultation on key issues, some of which will require the DFI rep's participation.Terms of Reference for the Forum available here.
If DFI member organisations would like to nominate someone to the role of DFI member organisation Representative please complete the DFI Rep. Nomination Form online .
Contact Cathy McGrath with any queries you may have.
Cathy McGrath
Project and Membership Development Manager
cathymcgrath@disability-federation.ie