Nomination Call for DFI Representatives on National Health Committees
November 17 2021, 11:00am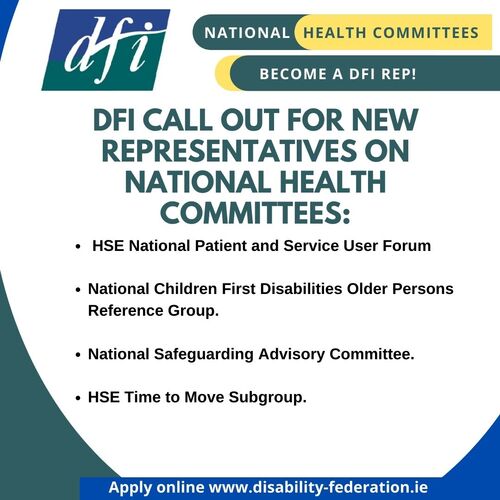 DFI represents its member organisations on over twenty National Health Committees (see list here).
We are calling for nominations from our members, for new representatives to a number of National Health Committees. Please note:
Nominees should have a working knowledge of each committee within their organisation.
Nominees must be able to carry out full roles and obligations as outlined in the General Protocol Regarding Appointment of DFI Representatives.
See the availabe nominations below for your regard.
National Children First Disabilities Older Persons Reference Group.
This Group was established in line in with its terms of reference available on page 9 of this governance document.
National Safeguarding Advisory Committee
Safeguarding Ireland was set up to promote safeguarding of adults who may be vulnerable, protect them from all forms of abuse and develop a national plan for promoting their welfare.Terms of Reference for the Advisory Committee available here.
HSE Time to Move Subgroup
Disabled people are supported to move from large institutions (congregated settings) to their own homes in the community with the supports they need. It is about supporting people to 'live ordinary lives in ordinary places'. See original terms of reference on p11 here.
HSE National Patient and Service User Forum
The objectives of this forum includes being an open inclusive network of patients, service users, families and advocacy groups. To be a first point of reference, at the earliest possible stage, for HSE at national level, for seeking opinions of, and consulting with, patients, service users, their families, carers and advocacy groups, on matters of national significance for the health service executive . Terms of Reference for the Forum available here.
If DFI member organisations would like to nominate someone to the role of DFI member organisation Representative please complete the DFI Rep. Nomination Form online .
Contact Cathy McGrath with any queries you may have.
Cathy McGrath
Project and Membership Development Manager
cathymcgrath@disability-federation.ie