Nomination call out for DFI Representatives on Statutory Committees - May Update
May 4 2022, 10:00am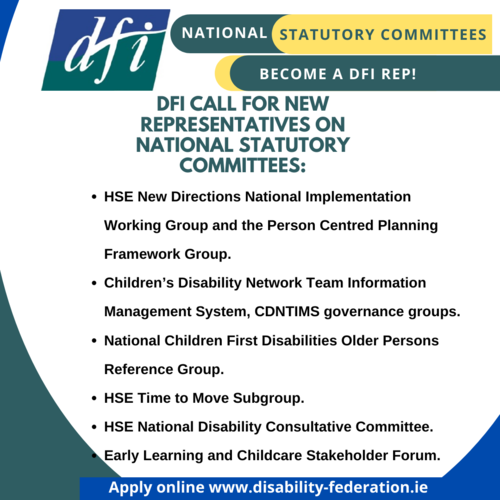 DFI represents its member organisations on over thirty National Health and other Statutory Committees (see health list here) and
We are calling for nominations from our members, for new representatives to a number of National Health Committees. Please note:
Nominees should have a working knowledge of each committee within their organisation.
Nominees must be able to carry out full roles and obligations as outlined in the General Protocol regarding appointment of DFI Representatives.
See the availabe nominations below for your regard.
Working Group to establish MDT needs of adults in receipt of disability day services Apply here.
One of the significant areas of unmet need in disability day services that has been identified over the last five years is the provision of Multi Discipliary Team, MDT supports. It is the purpose of this working group to reflect on this work and develop recommendations around it. We have in place a DFI rep to this group and are seeking a nomination for a DFI Alternate. Apply here.
National Patient and Service User Forum Apply here.
This forum has been established to support collaborative partnership and engagement with patients/service users, family members and carers at national level. It is envisaged that the Forum will become the first point of reference for HSE divisions and clinical care programmes when seeking an input from patients/service users in the planning, design and delivery of services and will act as a sounding board for implementation of new and existing national programmes. See full information on the forum here.
HSE New Directions National Implementation Working Group and the Person Centred Planning Framework Group. Apply here.
New Directions is the HSE's approach to supporting adults with disabilities who use day services in Ireland. New Directions sets out twelve supports that should be available to people with disabilities using 'day services'. It proposes that 'day services' should take the form of individualised outcome-focussed supports to allow adults using those services to live a life of their choosing in accordance with their own wishes, needs and aspirations.
DFI is calling for nomination to the position of DFI representative on both the HSE New Directions National Implementation Working Group and the Person Centred Planning Framework Group. Click here for further information on New Directions. We are asking for nominations as soon as possible to this space. Apply here.
Children's Disability Network Team Information Management System, CDNTIMS governance groups - short term Apply here.
To help further progress the implementation of the Progressing Disability Services for Children and Young People, PDSCYP programme, the National Children's Disability Information Management System, IMS Implementation Group recommended implementation of a national Children's Disability Network Team Information Management System, CDNTIMS that supports team based performance management gathering, collation and analysis of data. For the next 18 months this work will be overseen and supported at national level by two groups, now open for nomination of representatives from DFI members:
National Project Oversight Group, POG that meets every 1-2 months. This call is open to CEOs of DFI member organisations.
National Project Team that meets every 2-3 weeks and reports to #1 above. This call is open to Children's Disability Network Manager, CDNM or IT Lead of DFI member organisations.
The first meeting of the POG has taken place this week, the meeting of the National Project Team takes place tomorrow, Thursday 28 April. Recognising the short term nature of these groups (18 months) we would ask for nominations as soon as possible. Apply here.
HSE National Disability Consultative Committee Apply here.
The HSE National Disability Consultative Committee supports co­ ordination and monitoring of services to persons with a disability and provides the HSE with a forum to reflect with with key stakeholders of disability services within a collaborative framework in line with the National Disability Strategy and in accordance with the Value for Money and Policy Review.
National Children First Disabilities Older Persons Reference Group. Apply here.
This Group was established in line in with its terms of reference available on page 9 of this governance document.
HSE Time to Move Subgroup Apply here.
Disabled people are supported to move from large institutions (congregated settings) to their own homes in the community with the supports they need. It is about supporting people to 'live ordinary lives in ordinary places'. See original terms of reference on p11 here.
Other National Statutory Committees
The Early Learning and Childcare Stakeholder Forum
This Forum is the main consultation mechanism between the Early Years division of the Department of Children, Equality, Disability, Integration and Youth and stakeholders. It is chaired by Minister Roderic O'Gorman. The membership is made up of stakeholder groups representing children, families, childcare providers, childcare staff, academics and other groups with an interest in early learning and childcare.
The Department provides updates on developments and challenges and consult with the forum's members. Members can express views and raise issues with the Minister and Department and contribute to the design of solutions. The DFI rep will have an important role in representing a disability voice on the forum.
The forum meets two to three times a year. In addition, sub-groups will be established for focused consultation on key issues, some of which will require the DFI rep's participation.Terms of Reference for the Forum available here.
If DFI member organisations would like to nominate someone to the role of DFI member organisation Representative please complete the DFI Rep. Nomination Form online .
Contact Cathy McGrath with any queries you may have.
Cathy McGrath
Project and Membership Development Manager
cathymcgrath@disability-federation.ie